Floyd Visitors Guide
Floyd Facts & History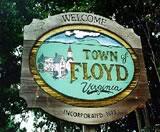 The earliest known travel way through present day Floyd County was the Trader's Path, running from East to West. The first known attempts to settle the area appear to have been made during the 1740's. Adam Harman and some of his clan were in the Horseshoe area of the New River; near the present Radford Arsenal; the Germans and Dunkards were on New River near present day Radford; and, the Drapers and Ingles had settled at Drapers Meadows near present day Blacksburg, all prior to 1750.
In 1745, the Virginia Council granted to James Patton, of Augusta County, and others, 100,000 acres on New River and the westward flowing waters, including the Little River area. Prior to the creation of Floyd County in 1831, this area was generally referred to in official recordings as the Little River Area.
Exploring parties had been sent out to loate and claim the best land situate on these waters in anticipation of the grant. One such exploration took place in the winter of 1742-43 under John Buchannan, Patton's cheif surveyor. On this expedition they found some hunters and trappers living along New River and engaged some of them to assist in the work. The Woods River Land Company was formed to locate, survey and market the grant.
In 1749 the Royal Company of Virginia also received a grant on the westward flowing waters, and thus the two companies became competitors for people to settle the area.
Surveying began in the latter part of the 1740's, including some on Little River. The present Floyd County, lying on the very eastern crest of the Blue Ridge as it does, must have had its first log cabins raised about this time. Some persons would enter a tract of land and raise a cabin to claim it, or purchase from the land company and have it surveyed, then depart over the next hill to the west looking for something greener before title had been perfected, making it near impossible to say who was first.
On January 15, 1831, the General Assembly of Virginia passed an act creating the present county of Floyd out of the county Montgomery. The new county was named for the then Govenor of Virginia, John Floyd.
The county seat of Floyd County was first called Jacksonville for Andrew Jackson, seventh President of the United States (1829-1837). The town appears to have been first incorporated in 1858. On January 23, 1896, the General Assembly passed an Act officially changing the name of the Town of Jacksonville to the town of Floyd.