Here in Floyd you'll find and experience the unique and interesting. Floyd is home to world-famous live music, artists and craftsmen, wineries, friendly people, and is a popular stop along the Blue Ridge parkway.
Downtown Floyd's main streets include several unique shopping opportunities. The Floyd Country Store is an old-time general store with lots of locally made crafts, wicker, corn cob jelly, ice cream, hot dogs, pinto beans and cornbread.
There's even an old-fashioned candy counter, a small antique museum and a 1940 working jukebox. This is also the home of the famed Friday Nite Jamboree, with local and visiting musicians creating a wonderful venue for music, food, dancing and more.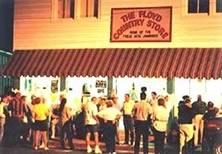 The Floyd Country Store – a half block east. of the stoplight downtown. Home of the famous "Friday Night Jamboree", as well as a newer series of Saturday-night concerts. The Floyd Country Store attracts musicians from all over the world. You can also browse through Virginia Made crafts, CD's, and musical accessories.
Floyd is a haven for all manner of artists and musicians. You'll find art galleries and studios littered all over the county. See our Arts and Music directory for more details. One popular arts event is the semi-annual 16 hands art tour, which brings visitors out to the back roads of Floyd to visit individual artist galleries.
The most famous national landmark here is the picturesque Mabry Mill, right on the scenic Blue Ridge Parkway. The mill was operated by E.B. Mabry from 1910 to 1935.
The mill complex features a black smithy, wheelwright's shop, and whiskey still, as well as the grist mill. Educational demonstrations and special events are featured during the summer months. This is a good place for visitors to get a true taste of American history and beauty.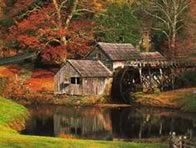 Mabry Mill – Reminiscent of bygone days, water rushes down the flumes and splashes over the massive wheel which grinds corn meal. Said to be the most photographed and recognizable rustic scene in the U.S.
Floyd is also home to some great wineries, Chateau Morisette and Villa Appalaccia, both are located just off the parkway. Both wineries feature special events year-round.
Downtown Floyd also features many other interesting spots, such as County Records, the world's largest distributor of bluegrass and old-time music. You'll find more than 5,000 tapes, records, albums, books and videos. The collection is truly phenomenal, and browsers are welcome.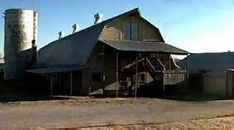 Jacksonville Center – Route 8 South, One-half mile South of stoplight Floyd's community showplace for rural creativity. A center for art, mountain music, theater, dance, crafts, and rural heritage is found nestled among old oaks at the top of the hill. (540) 745-2784
New Mountain Mercantile is a unique gift shop for handmade and unusual items. Local crafts and art include hand-wrought jewelry, clothes, games, toys, furniture, weavings, pottery, stained glass and more.
In addition, visitors flock to Floyd for three entire floors of every fabric imaginable. It's located in Floyd's old schoolhouse building, which is now suitably called School House Fabrics.